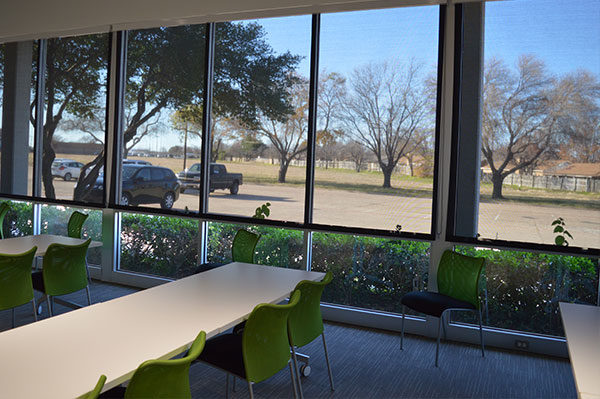 Serving Texas' top businesses with creative and reliable shading solutions, the DropShade team designs, manufactures, and installs a variety of sun and glare protection and privacy options that are unparalleled in strength and beauty. Made from the highest-grade materials and rigorously tested for tensile strength, every drop shade we make is backed by an industry-leading, 15-year warranty.
High-end indoor and outdoor shades do more than block the glare of the sun. Also reducing the heat of its rays, DropShade products help businesses save money on monthly utility bills. Both interior and outdoor shades also protect the life of your equipment and furnishings by drastically reducing the amount of exposure to destructive UV rays.
Finally, keeping prying eyes from being able to see from the outside, the unique construction of DropShade blinds and shades provides comfortable privacy while allowing plenty of natural light to permeate your space.
Ease Of Use
Easy to operate, and even easier to clean and maintain, indoor shades are perfect for office spaces of any size or design. Catering to the needs of both the small business owner and major corporations, our unique approach ensures that the design, manufacture, and installation process of your blinds is as hiccup-free and streamlined as possible.
At DropShade, our Carrollton-based team is responsible for making Texas offices and businesses more functional and beautiful. Having installed thousands (upon thousands) of square feet of shades in all types and styles, we are the recognized sun protection experts of Texas.
For affordable yet exceptional commercial-grade drop shades for your business, regardless of its size or scope, contact our customer care team now. We strive to always exceed your expectations with prompt, professional, and friendly service.
---